Coworking, networking, innovation, and sustainability – Katharina Scheunemann founded the HUB MUERITZ Coworking Space with a café in Sietow. In the interview, the 46-year-old reveals her reasons for starting this venture.
The region "Seenplatte" of Mecklenburg Western-Pomerania is translated to "lake district".
Interview
Katharina, with HUB MUERITZ, you've set out to create a hub at the junction between Waren/Müritz, Malchow, and Röbel. Why does the lake district need such a place?
The digitization of work processes opens up new spaces that we can benefit from together, whether as employees or employers. With great effects for the region and the climate.
At HUB MUERITZ, founders and freelancers can flexibly rent a space or an entire office. It's a place for people to exchange ideas, an alternative to working from home and commuting daily – almost like a second desk, a flexible workspace in a nearby coworking space, serving as a junction in the Müritz region. This is also my contribution to strengthening the region.
You renovated a former daycare center for your coworking space...
For me, it was important to merge sustainability with modern components, blending old and new, where state-of-the-art technical equipment meets repurposed furniture. I collaborated with Gaby Roter from Lörrach for spatial design, and she captured the essence perfectly. The turquoise color offers a mix of naturalness and innovation. Turquoise is a shade between green and blue, where green is calming and blue is livelier. For me, it's the perfect combination for an innovative space in the countryside.
Starting something new requires a lot of courage and the ability to swim against the current at times.

Katharina Scheunemann, Founder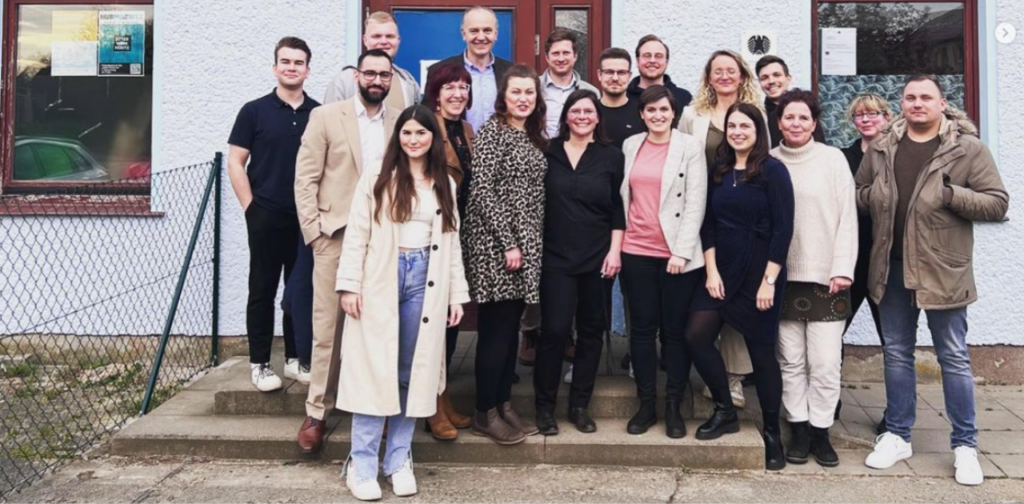 As the name suggests, coworking is a pillar of your offering...
Exactly. At the HUB, we offer flexible and well-equipped spaces for focused work, creative meetings, and discreet consultations. In the coworking café, people can network or finish up their creative projects.
We participated in the Coworking Festival for the first time this year, which were really exciting days. Additionally, we initiated founding meetups with the 'Gründungswerft' (startup dock), the next one will be on August 23 at 6 p.m. The After Work evenings on the first Thursday of every month also invite networking, with the next session on August 3.
What was it like for you to start your own business?
As a trained business graduate, I've worked in various fields in Berlin and abroad. I originally come from Schwerin. My husband was already familiar with the Müritz region. We fell in love with it. When we moved here a few years ago, I initially worked as a freelancer.
I couldn't find a suitable coworking space, and I missed the networking, regular exchange with like-minded people, and the spontaneous use of workspaces.
So, I decided to utilize the vacant space of the old daycare center in our community. It took a while to get everything sorted out. In the meantime, I reached out to various stakeholders in the region and beyond, such as economic development agencies, Coworkland, and the Seenplatte network.
What other steps accompanied your startup journey?
It followed the typical startup path: writing a business plan, financial planning, deciding on a legal form, and choosing a name.
For the name, it was clear that I would separate the company name from the coworking space, especially since there will be additional business areas in the future. As for the legal form, I opted for a GmbH (limited liability company), which is a stable legal structure, especially when dealing with banks. I often appreciated that my education and professional experience helped me in execution. Nonetheless, there were certainly many obstacles, especially bureaucratic ones.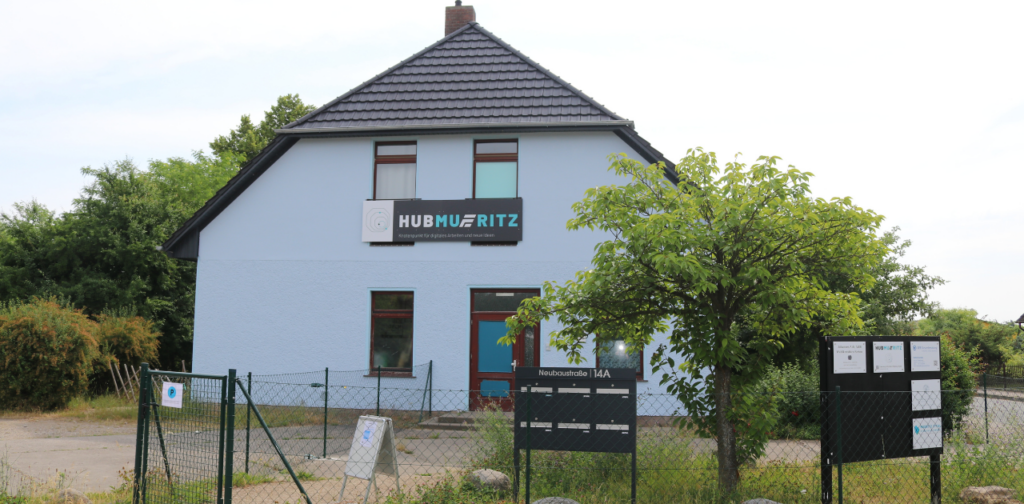 What hurdles did you have to overcome?
Unfortunately, due to an existing budget freeze in the community, there were no LEADER funds available. Finding a suitable partner for business financing was not easy. However, we are now very grateful and happy with our choice. What really took a toll on our nerves was the issue with naming the location. We had filed a word/image trademark for the former name after legal examination. Unfortunately, a company from the Ruhr area contacted us. After several attempts to reach an agreement, we decided not to wait any longer or risk being sued. So, we needed a new name, which incurred costs, new registrations, etc. It definitely helps to always register a trademark, preferably six months before any public announcement.
What ideas and plans do you have for HUB MUERITZ?
There are many ideas, and being located right at the Sietow junction, "HUB" itself is already a program. We plan to continue collaborating with our Regional Shelf and "Seenreich," further expand the café, and create other offerings that are needed at a junction.
However, the focus remains on supporting freelancers, entrepreneurs, and, of course, commuters with flexible space options. HUB MUERITZ is an ideal haven for business travelers and especially for employed commuters at this location.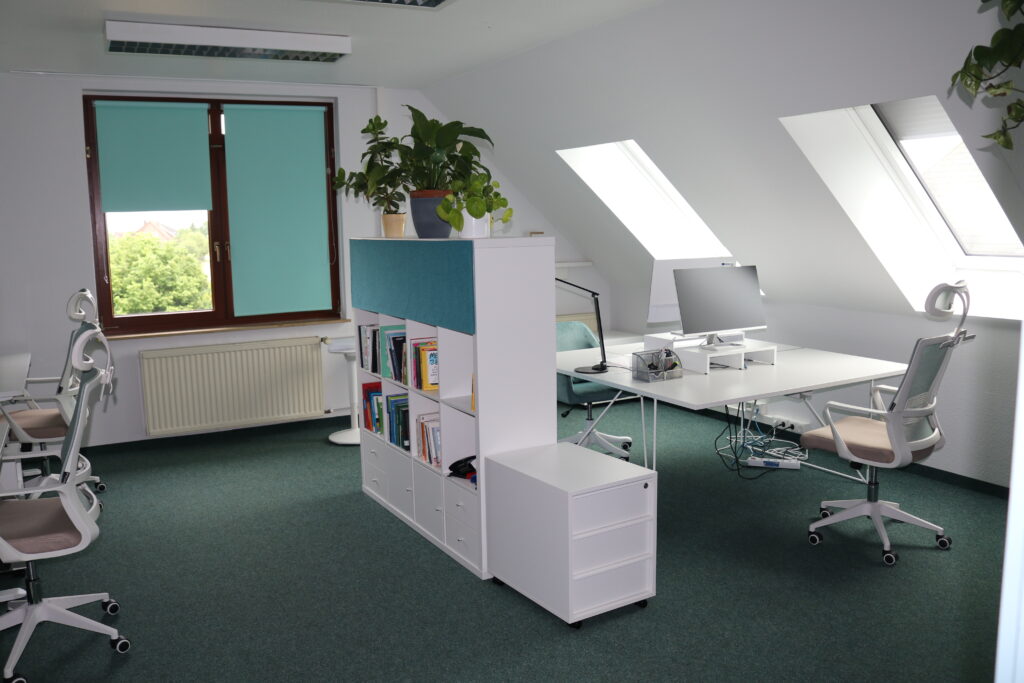 Moreover, I can envision an increasing emphasis on vitality and fitness offerings in daily life here in the near future.
There's a close collaboration with the Digital Innovation Center MV and other coworking spaces in the lake district. Overall, it would be a fantastic new mix and a source of inspiration for generating new ideas